One of the best things to add to a hot, fluffy biscuit is a sweet jam. This keto-friendly strawberry jam is the perfect addition to your next breakfast!
When I was younger, my dad would grow strawberries next to our barn. Each summer, he would pick them and spend a day or two making freezer jam. His jam was the absolute best thing I have ever eaten. It was sweet and utterly delicious on a nice hot, buttered biscuit.
Of course, the jam was chock full of sugar. In fact, that is what helped to make it so wonderful was how sweet it was. As you know, that kind of thing is not part of a low-carb diet. How I wish…
Our friend Wendi over at Loaves and Dishes has a great write-up on the cooking and canning process of the regular sugary jam if you're interested in seeing how it's made.
Normal jam recipes call for pectin to be used. Pectin helps to thicken the mixture, resulting in the thick jam you have been used to in the past.
We don't believe in adding ingredients that aren't absolutely necessary, especially when trying to eat as clean as possible. Some people may add pectin, but this recipe does not. It is easy to cook and reduce the mixture for the same effect without having to use additives.
Do know, if you taste the jam right after you cook it, it won't have a very bold flavor. It must have time to cool before the flavor will be fully present.
If you're wondering how you can eat this jam, it's super easy. Start with some of our Keto Sausage Gravy and Low-Carb/Keto Biscuits. Then, after you've finished the main part of your breakfast, we are going to add the "dessert." Butter one half of a biscuit and add this jam.
Trust me, it will be good.
There's not much better than a buttery biscuit and strawberry jam. Don't believe me? Try it.
---
Be sure to leave us a comment and a ★★★★★ review!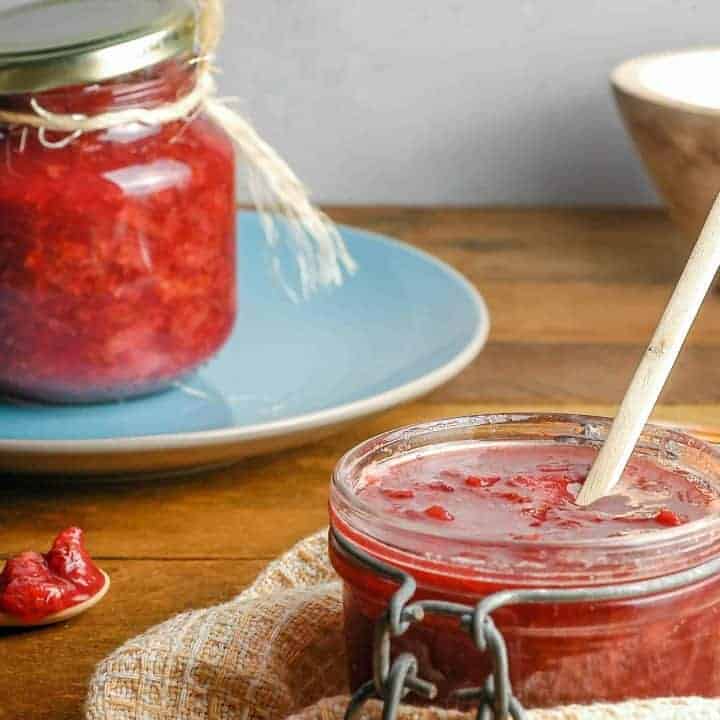 Keto-Friendly Strawberry Jam
One of the best things to add to a hot, fluffy biscuit is a sweet jam. This keto-friendly strawberry jam is the perfect addition to your next breakfast!
Ingredients
16 oz fresh strawberries
2 tbsp fresh squeezed lemon juice
Instructions
Remove the tops from the strawberries and slice into quarters
In a saucepan, combine all ingredient over medium heat
Using a meat chopper (works the best, oddly enough) begin to mash/slice the strawberries into smaller pieces
Bring the mixture to a light boil, stirring occasionally
Slowly begin to reduce heat every few minutes, letting the mixture continue to cook and thicken; stir occasionally 
When the mixture has reached your desired jam consistency, remove from heat and place into a Mason jar or other air-tight container
Place into refrigerator and let cool; will keep for a few days
Serve and enjoy!
Recommended Products
We are a participant in the Amazon Services LLC Associates Program, an affiliate advertising program designed to provide a means for us to earn fees by linking to Amazon.com and affiliated sites. As an Amazon Associate, we earn from qualifying purchases.
Nutrition Information
Yield

16
Serving Size

1 tbsp
Amount Per Serving
Calories

10
Total Fat

0g
Carbohydrates

1g
Protein

-g
Nutrition facts are provided as a courtesy, sourced from an online food databse. All carbohydrate counts are calculated as net carbs instead of total. Net carb count excludes both fiber and sugar alcohols, because these do not affect blood sugar in most people. We try to be accurate, but feel free to make your own calculations.