No-bake desserts are super easy to make and delicious. This keto no-bake pumpkin pie cheesecake is no exception and has all of that wonderful pumpkin taste!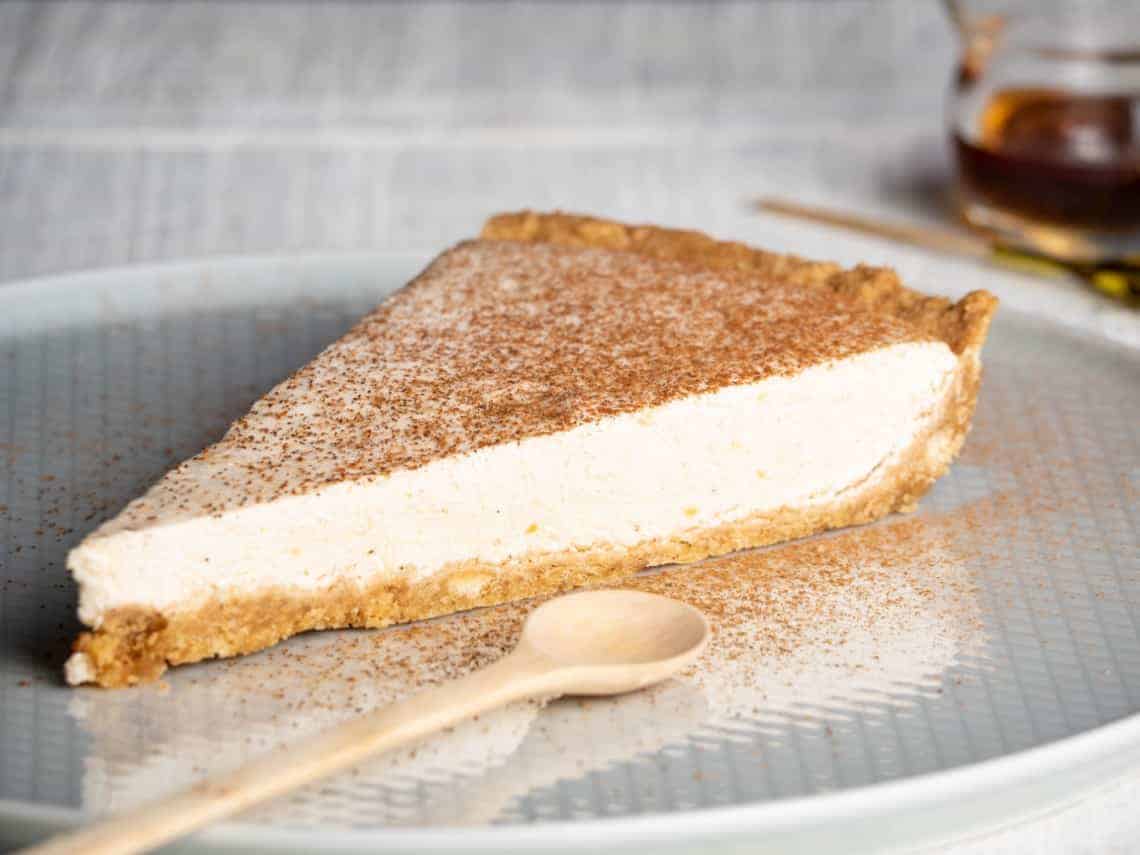 It's edging ever closer to fall and I promised to get into the swing of things with pumpkin-based recipes. There's not much simpler in the dessert world than a nice "no-bake" dessert. They take only a short time to prepare and are easy.
There are hundreds of things you can do with pumpkin. It is a very versatile ingredient. You can use it in desserts, main dishes, and drinks. Our friends over at loavesanddishes.net have all kinds of wonderful (not keto, though) recipes that use pumpkin.
We've talked about it before and I'm sure we will talk about it again (sooner than later, probably). Pumpkin pie spice makes the world go round for several months out of the year. So, we decided to take a look at what desserts we could make with the spice and pumpkin.
This keto no-bake pumpkin pie cheesecake has all of that wonderful pumpkin pie flavor you love and is simple to make. A quick graham cracker crust (based on our Keto Graham Cracker recipe) and a simple cheesecake "fluff" filling are all it takes.
You can easily make this in 10 minutes or less, but don't get in too much of a hurry. You'll still need to make some time for it chill so the filling can set up properly. You can speed it along by placing it in the freezer, but it's best to not rely on this method. It's better to have it set slower than trying to rush it.
This will be the perfect addition to a fall meal or a meal all to itself. Hey, I don't judge.
Dessert can be a meal too. It's all about how you look at it.
Eat, love, and enjoy!
---
Be sure to leave us a comment and a ★★★★★ review!
Keto No-Bake Pumpkin Pie Cheesecake
Total Time:
3 hours
15 minutes
No-bake desserts are super easy to make and delicious. This keto no-bake pumpkin pie cheesecake is no exception and has all of that wonderful pumpkin taste!
Ingredients
For the crust...
For the cheesecake filling...
16 oz cream cheese, softened
2/3 cups pumpkin puree
2/3 cups heavy whipping cream
2 tsp pumpkin pie spice
1 tsp vanilla extract
Instructions
Mix all of the crust ingredients together and form a crust in the bottom of a 9" glass pie plate
Using a hand mixer, mix all of the filling ingredients together in a mixing bowl
Mix until the filling is nice and fluffy
Spread the filling evenly onto the crust
Refrigerate for 2 - 3 hours or until the filling has set
Sprinkle some cinnamon on top for some extra flavor, if you wish
Cut, slice, and enjoy!
Recommended Products
We are a participant in the Amazon Services LLC Associates Program, an affiliate advertising program designed to provide a means for us to earn fees by linking to Amazon.com and affiliated sites. As an Amazon Associate, we earn from qualifying purchases.
Nutrition Information
Yield

12
Serving Size

1 slice
Amount Per Serving
Calories

290
Total Fat

28g
Carbohydrates

4g
Protein

5g
Nutrition facts are provided as a courtesy, sourced from an online food databse. All carbohydrate counts are calculated as net carbs instead of total. Net carb count excludes both fiber and sugar alcohols, because these do not affect blood sugar in most people. We try to be accurate, but feel free to make your own calculations.