Tons of recipes, especially any that require frying, need some form of breading. Opting for coconut flour or almond meal is the easiest solution.
These options are great, but sometimes you need something a little different. There is another alternative that is just as good and creates a wonderfully crispy texture.
Enter pork rinds, those nifty, crunchy bits of pork skin you pass every time you visit the grocery store.
Pork rind is the culinary term for the skin of a pig, which is normally fried or roasted in pork fat as a snack. The frying renders much of the fat that is attached to the uncooked rind, causing the size of the cooked product to be reduced considerably.
You can find them made fresh, often at fairs or by the roadside, or even in microwavable bags to "pop" the pork rinds yourself.
To do this, you will need a food processor. If you don't have one, they are easily found on Amazon at your local Walmart. Pork rind breading is not only more delicious than some of the alternatives, but it is also very cheap to make. At least in our area, a bag of pork rinds goes for around $1.50, and most of the time you can buy one get one free.
If you ever get the chance to buy a bag of fresh rinds from a roadside vendor or at a fair or large event, make sure you do! They are amazing!
---
Be sure to leave us a comment and a ★★★★★ review!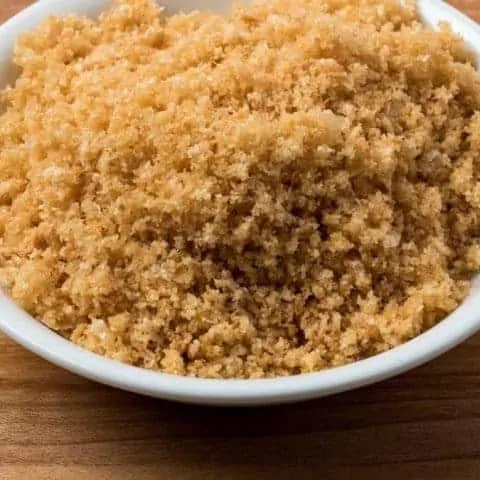 How to Make Pork Rind Breadcrumbs
Tools
Instructions
Preheat oven to 300°F
Spread a bag of pork rinds evenly over a baking sheet
Bake in the oven for 10 minutes to help reduce the small amount of residual water content in the rinds
Remove and add to your food processor
Pulse to break the rinds down into smaller pieces, then run processor continuously to powder them
Once the pork rinds have turned into powder, add a pinch of salt and pulse a few times to incorporate
Remove from the food processor and use as breading immediately
Notes
Generally, one bag of pork rinds will reduce to 1 cup (or a little more) of breadcrumbs
Recommended Products
We are a participant in the Amazon Services LLC Associates Program, an affiliate advertising program designed to provide a means for us to earn fees by linking to Amazon.com and affiliated sites. As an Amazon Associate, we earn from qualifying purchases.