Keto chocolate ice cream. Seriously? Need we say more!? We surely hope not since chocolate is obviously the best thing on earth!
Chocolate ice cream… Do I really need to say more? It's one the three most popular ice cream flavors. In fact, you can tons of find flavor variations all over the world.
In fact, chocolate is the most widely craved food in the world. The good news is, becoming "addicted" to it isn't actually a real thing. Regardless, we can't help but want something chocolate all the time.
I think we can all agree, anything chocolate automatically tops our "yes please" list. Keto chocolate ice cream is a super easy way to get your chocolate fix without a ton of preparation and work. Grab your ice cream maker and let's get to work!
Because we are using cocoa powder, it is very important that you "dissolve" that powder in warm water before beginning. If you try to just add it to the mixture without doing this first, you run the risk of the powder clumping or not being equally dissolved. Either problem will lead to a very unhappy eater when the ice cream maker finishes.
Unhappy eaters are certainly NOT what we aim for here at Better Than Bread Keto!
The nice thing about making your own ice cream is the texture. My wife mentions often how the texture and consistency of homemade ice cream is so much better than anything you can buy in an ice cream parlor or grocery store. I think I have to agree because it is incredibly light and airy, instead of more hard packed.
You definitely can't go wrong with ice cream. Add to that the awesomeness of chocolate and you REALLY can't go wrong.
Make it. Eat it. Love it. Wash. Rinse. Repeat.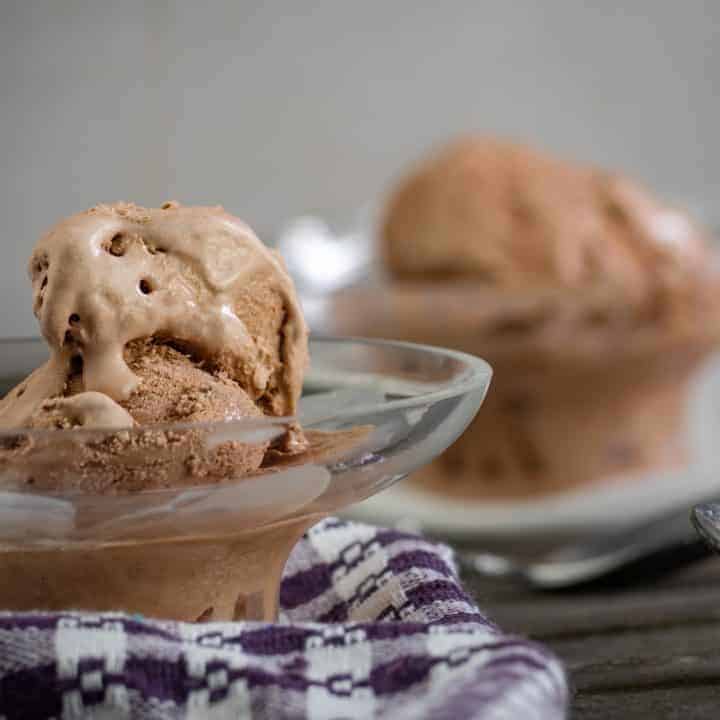 Keto Chocolate Ice Cream
Keto chocolate ice cream. Seriously? Need we say more!? We surely hope not since chocolate is obviously the best thing on earth!
Ingredients
2 cups heavy whipping cream
2 egg yolks
Instructions
Dissolve unsweetened cocoa powder in warm water (around 2 tbsp)
Using an high-speed blender blend all ingredients together for a few seconds
Pour blended mixture into your ice cream maker
Let the ice cream maker work its magic and dig in!
Recommended Products
We are a participant in the Amazon Services LLC Associates Program, an affiliate advertising program designed to provide a means for us to earn fees by linking to Amazon.com and affiliated sites. As an Amazon Associate, we earn from qualifying purchases.
Nutrition Information
Yield

8
Serving Size

1/3 cup
Amount Per Serving
Calories

210
Total Fat

22.5g
Carbohydrates

4g
Protein

0g
Nutrition facts are provided as a courtesy, sourced from an online food databse. All carbohydrate counts are calculated as net carbs instead of total. Net carb count excludes both fiber and sugar alcohols, because these do not affect blood sugar in most people. We try to be accurate, but feel free to make your own calculations.